Grow your Groceries with CaliKim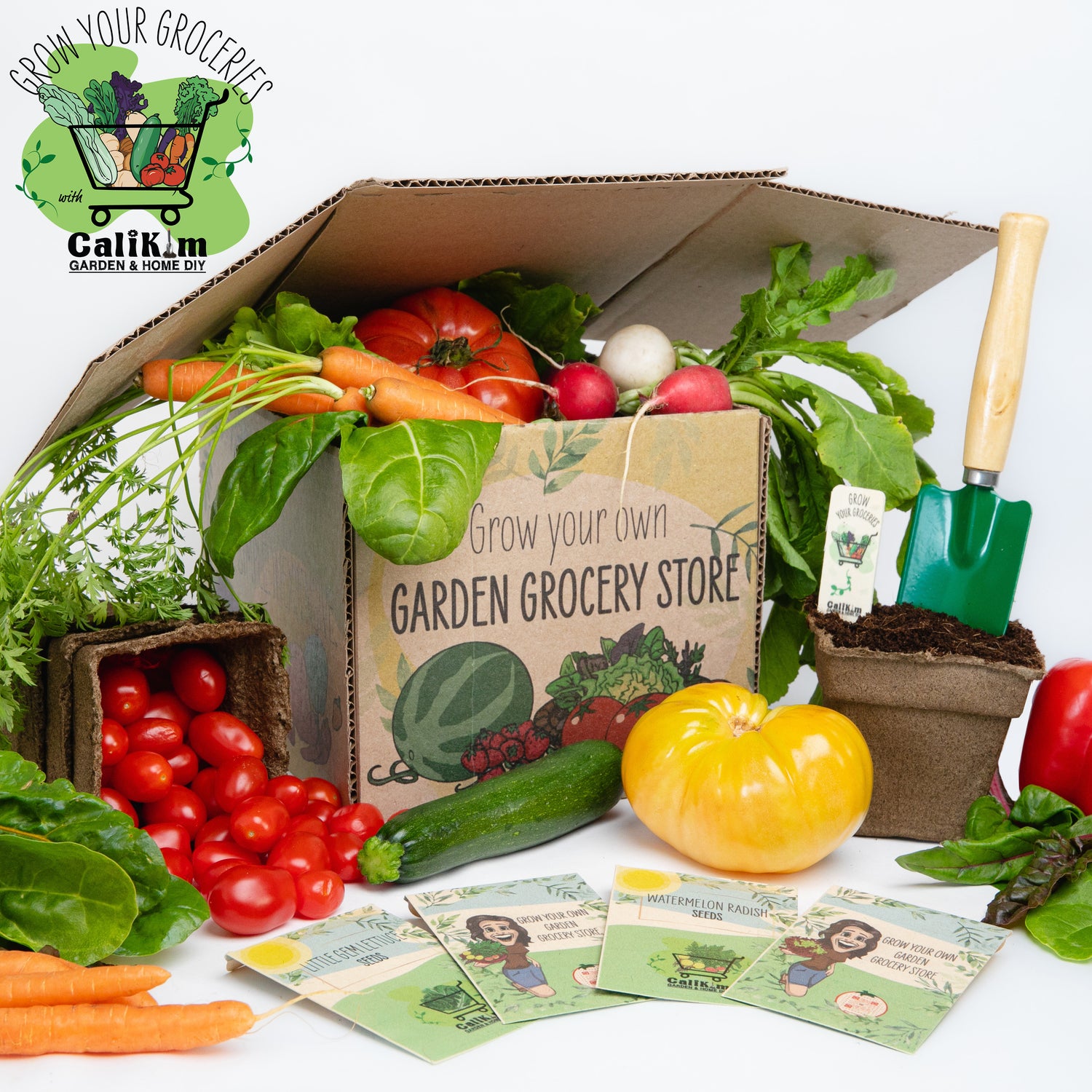 Garden Subcription Box
A monthly garden subscription box that makes it easy to grow, harvest and eat your own fresh, tasty vegetables, side-by-side with YouTube garden expert, CaliKim.
October Theme: "Indoor Garden - Mini Veggies & Herbs", everything you need to grow fresh, tasty veggies and herbs inside when it's too cold to grow outside!
$5 off 1st box w/ code "MINIVEGGIES".  
The October box honors Breast Cancer Awareness Month with a special Free Bonus Smart Pot Breast Cancer Awareness 1 gallon fabric container.
*$1 from the proceeds of each box will be donated towards breast cancer research.
ONE TIME OFFER: Gift It! boxes are available for the October box only (no subscription necessary) to honor someone who is battling breast cancer or a breast cancer survivor.  (see below)
*Orders after 9/22 will receive the October box. Boxes start shipping the first week of October.
WHAT'S IN THE BOX?
A different hands-on edible garden project each month that includes:
FREE BONUS to honor Breast Cancer Awareness Month : Exclusive Smart Pots Breast Cancer Awareness 1 gallon fabric container. Visit SmartPots for fabric containers of all sizes.
4 CaliKim custom designed seed packets of easy-to-grow veggies, not in any other CaliKim Seed Collections.
4 CaliKim custom designed wooden plant tags.
4 biodegradable Cow Pot seed starting containers.
Growing medium to fill your seed starting containers.
4 custom designed veggie stickers that coordinate with that month's seed varieties.
A special surprise garden goodie that will make growing your own groceries FUN! (Different each month.)
The box! A beautifully illustrated one-of-a-kind custom box featuring CaliKim, CameraGuy, and Mac! Store seeds, garden supplies or even plant in it.
Written step-by-step instructions to plant and grow that month's project.
Access to an exclusive CaliKim video that teaches you step-by-step how to plant and grow that month's project.
Pick Your Plan - Get Your Box - Grow Your Groceries
FAQs
Will I know ahead of time what seeds and fun garden goodie's are in that month's box?

No, part of the fun is the surprise when you open your box! Know that each month the box will have seed packets, seed starting containers, growing medium and a fun garden goodie (see "What's in the Box" above for more details). We know you'll love it!
When does my first box ship?

Your first box ships within 3 – 5 business days after your initial order is placed, and monthly after that, within 7-10 days from your monthly anniversary date. Shipping takes 4 to 7 business days.  

 Orders placed on the 26th of the month or later will receive the next month's box, with the exception of launch month, (February, 2023). Due to February, 2023 being launch month, any orders from February 22, 2023 – March 25, 2023 will receive the Feb/March (month 1) box.

Orders received March 26th -April 25th will receive the April (month 2) box. 
How does the subscription plan work?

Subscribe either monthly, every 3 months, every 6 months or every 12 months.

Renewals are posted to your credit card every month, 3 months, 6 months or 12 months (depending on your subscription plan) from the date of your 1st month's order. You'll get a reminder email in advance in case you need to change your address, or billing information.

If you'd like to cancel your subscription, it must be done at least 5 days prior to your renewal date (see below). 
How do I cancel and what is your cancellation policy?

Cancel monthly, 3 month, 6 month or 12 month subscription pIans at least 5 business days prior to your renewal date in order for your credit card not to be charged for renewal. 

 Log into your account at https://calikimgardenandhome.com and click "cancel subscription".  Email calikim@calikimgardenandhome.com if you have any issues cancelling your subscription .

 If you do not cancel 5 business days prior to your renewal date, you cannot be refunded for that month's (or 3 month's, 6 month's, or 12 month's) shipment. 
What is your refund policy?

We do not offer refunds on pre-paid multi-month subscriptions or boxes that have already been shipped.